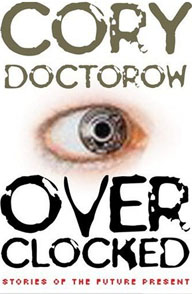 Blogger, journalist, sci-fi author, and Boing Boing co-editor Cory Doctorow is coming to Toronto for the launch of his new book entitled Overclocked: Stories of the Future Present this Thursday, February 1 at Bakka Books (697 Queen Street West), the world's oldest Science Fiction bookstore. He'll be there at 7:00 PM signing and reading books, so make sure to come on out!
I'm really excited about this. After all, it's not every day that Mr. Doctorow himself is in town. Hmm...I wonder if Joey'll be there... it'd be interesting to see him back with his old friend (and ex-boss) from OpenCola...and a little accordion rock-and-roll on Queen Street on a Thursday evening around an SF bookstore and a gathering of geeks couldn't hurt, too
.
If you can't make it out Thursday but you still want a signed, personalized copy of Cory's book, you're in luck! You can get a signed copy shipped straight to your door! Just contact Bakka Books (Phone: 416-963-9993) and tell them what you want Cory to write in it. The only catch is you have to do this by February 1st.
Technorati Tags: cory doctorow, events, toronto, overclocked, bakka books